Our carefully seasoned hardwood logs are produced on our family farm in Purley-on-Thames and are available to order in two sizes, (10" for an average burner or, 8″ for the smaller burner). We spend 12 months ensuring that the moisture content is below 20 and the logs are perfect for burning, at which point we can arrange the logs delivery, at a time and day to suit you.
For customers who live within our delivery zone, we offer free delivery on orders of 1 cubic metre or more. If you order more than 1m3 then we will deliver your logs in our tipper trailer.
To find out more about our logs visit the log store, or for further information about the area we cover – logs delivery.
What do you mean by seasoned ?
Seasoned means dry. Well seasoned logs should have a moisture content below 20%. Our seasoning process achieves that in about 12 months.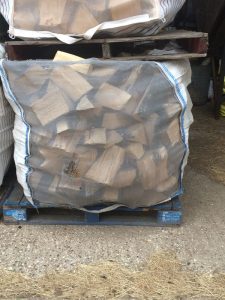 What is your seasoning process?
Following felling our timber is stacked in one of our fields at Home Farm.
It is important to split the logs as soon as possible as this will speed the drying process. We will start processing the logs, as soon as the weather is dry for a long enough period.
The logs are then placed in our well ventilated bags and stored in our barn.
These bags are made from a netted material, which means the air is able to circulate and allows them to continue to dry. Each of our ventilated bag hold 1 cubic metre of loose logs (1m3 ), which will eventually be delivered to our customers.
In our barn the bags are stacked on pallets, which encourages a continuous air flow around the logs further speeding the seasoning process.
What sort of wood do you supply?
We supply hardwood logs – Ash, Beech, Cherry, Oak and Silver Birch.
More questions? Read our FAQs. Alternatively place an order.